Our site begins provide tons of Cran-Dol-video stuff again! Check out our video-section. It' working again! We just begin to restore all stuff, so there will be much more video! Check the site for updates. More Cran-video everyday!
Right now you can download Dolores' 2007 concert Avo Sessions + 12 live-videos
Really exclusive videos (including great-quality Moscow 2007 concert) will be available soon. Have fun! The Cranberries forever!
Posted in Site Update |
You can download the great Dolores' concert in San-Sebastian 2007 in DVD-quality right now!  This concert is uploaded online for the first time! And It's in great quality!
Links of DVD-version of concert in Video-section. Size - 2750Mb, length - 1hour 13min.
It's one of the best Dolores-Cran concerts we have ever seen! Enjoy! There are several screenshots:
Posted in Dolores News |
Download high-quality record of The Cranberries' performance in Dublin (9 January, 2009)!:
Download video (115mb) - Linger, Ordinary Day, Zombie
Posted in Dolores News |
Happy New Year, dear fans, Dolores O'Riordan, Noel & Mike Hogan, Fergal Lawler ! We wish you Health… So you may enjoy each day in comfort. We wish you the Love of friends and family… And Peace within your heart. Happy New Year!
BTW Dolores O'Riordan made a GREAT present for us:
- The release date of new Dolores' album "No Baggage?" is announced today! It's may 2009!
- The Cranberries will perform together at Dublin concert!
-  Visit new Dolores' official site www.doloresoriordan.com. You can watch Dolores' video-congratulation & new photos, to listen to cuts from new songs here. Don't forget to register for exclusive content
Thank you Dolores for this great present! You're the best!
Posted in Dolores News |
Dolores' official site was under construction for the long time. At least we know the date of site launch - 00:00 of the 1 of January 2009! Visit www.doloresoriordan.com and listen to the soundtrack. You can listen to the cut of NEW DOLORES' SONG at the end of soundtrack, just wait for 2 minutes! It would be so lovely, cool, amazing song!!!
Posted in Dolores News |
Dolores O'Riordan shared by the 32-sec version of new song with fans!
Download it here:
http://rapidshare.com/files/164309765/myspace.mpg.html
I'm asking now, please
Will you catch me, will I hide
I am begging on my knees
will you be there when I die?
Borderline, borderline.. (???)
Borderline, borderline, borderline…
Posted in Dolores News |
The Letter from Dolores:
Hi guys,
Hope you're all doing well out there!! Things are brilliant here. I've got some updates for ya on the new record, the website, etc. It's been pretty nuts on my end!! So much going on!
As for the album, we're all finished recording and mixing now, and headed into the mastering phase. I'm really happy with the way the album's turned out. Like always, I've written all of these songs from my heart. We also shot some video inside the recording studio while we were making the record, so you guys can share in some of those experiences with me. I'll be uploading that footage to my new site when it launches (along with a bunch of other stuff.) I'll be making an announcement soon with the official release date for the album, and the official date the website will launch!
So, about my new website!! I just took a look at the new progress today, and it's really fantastic what the team has been up to behind the scenes.
I think my favorite thing about my new site is that it's going to be a really interactive experience for you guys. Some of the features include my own social networking community that's built right in, where you can create a profile, upload your own photos and concert videos, post blogs, create groups, chat live with other fans in my new chat rooms or post in the forums, etc. I just created my own account this evening, and uploaded my first new photo! Haha.
The team and I will be posting updates and uploading new videos, pictures, and tour news on the main page of the site, but members of my community will have access to a lot of exclusive stuff that non-members won't have access to… and it's totally free to be a member.
So after the new site is launched, I really hope you'll all join up, create your own profiles, and then leave me some comments or send me a message to let me know what you think!
Anyway, that's all for now. 2009 is just around the corner now! Really looking forward to seeing you guys on tour and sharing this new music with ya. Thanks for hanging in there with me.
Loves,
Dolores xx
Posted in Dolores News |
Dolores wrote a song for the kids canadian tv show "Roll Play". The new song is "Centipede Sisters".
Download new song "Centipede Sisters" here: Write your comments about the song in Forums, plz.
CENTIPEDE SISTERS
The centipede sisters,
The centipede sisters,
Let's watch them interact,
As opposites attracts !
Liz stands up, Zil sits down
Liz might smile, Zil might frown
Liz says black, Zil says white
Liz says day, Zil says night
The centipede sisters,
The centipede sisters,
Let's watch them interact,
As opposites attracts
The centipede sisters,
The centipede sisters,
The story just begins
With the centipede twins !
Liz jumps high, Zil jumps low
Liz walks fast, Zil walks slow
Round and round and round and round
They're spinning round and round and round
They're spinning round and round and round
Fall down !
The centipede sisters,
The centipede sisters,
Let's watch them interact,
As opposites attracts
The centipede sisters,
The centipede sisters,
The story just begins
With the centipede twins
Opposite attracs,opposite attracs,
Watch us interact.
Opposite attracs,opposite attracs,
Watch us interact
The centipede sisters,
The centipede sisters,
Let's watch them interact,
As opposites attracts
The centipede sisters,
The centipede sisters,
The story just begins
With the centipede twins
The centipede twins (x4)
Posted in Dolores News |
Happy birthday, dear Dolores O'Riordan! "We love you just the way you are"! Thank you for everything you have made for fans! Your voice is the most beautiful, magic, powerful & weakness thing in the world! Russian fans wish you the best, and hope that you are specially happy in this spacial day. 
Everything is changing, but your voice, your talent are forever! And our love is endless too. Be happy, dear Dolores! We love you!
Posted in Dolores News |
Dolores O'Riordan has send the letter to fans on her site:
Hello!
Thanks to everyone for all your support, messages, and kind words. Sorry it's been so long but I'm happy to share there's lots going on!!
21 new songs, in the studio working away, a brand new website in the works with all the things you've been asking for from forums, your own fan profile pages, videos, tons of exclusive stuff, interactive areas, chat room, contests, live webcasts, 24/7 radio, regular updates from the road, a mobile site, even the occasional live video chats and a lot more!
There will be more announced soon, so keep checking back here until we announce the launch of the new site!
Love,
DoloresXX
Posted in Dolores News |
Source: Daily Mail
Author: CATHERINE O'BRIEN
Dolores O'Riordan enjoyed huge success with the Cranberries, but it came at a high price. Now, after years out of the limelight, she is back - but this time with no entourage and no fuss…
For anyone looking to restore their faith in the power of serendipity, the story of Dolores O'Riordan is a good place to start.
When she was 18, a girl at school told her about three boys in a band looking for a singer.
She met them and, within a week, they had written their first song together, called 'Linger'.
Barely a year later, it reached the U.S. top ten.
Dolores O'Riordan is back after years out of the limelight. The singer enjoyed huge success with the Cranberries, their first single, 'Linger' reached the U.S. top ten
The Cranberries went on to have number-one singles in 26 countries and sell more than 40 million albums worldwide.
Dolores, a wisp of a woman with a hypnotic, powerhouse voice, was catapulted from the backwaters of Limerick to the global stage, becoming one of Ireland's richest women.
But then, almost as suddenly as she had appeared, she vanished.
Seven years of relentless touring and recording had led to a catastrophic breakdown.
She had therapy, recovered, had three children and focused on "just being anonymous".
In late 2005, just as Dolores was thinking of getting back to work, she took a call from the American actor Adam Sandler, who was directing and starring in a film called Click.
"'Linger' was one of his favourite songs, and he had this wedding scene in which he wanted me to perform in a cameo," she explains.
Her daughter Dakota was six months old at the time "and I was still nursing her, but I thought, 'I can't refuse'."
Dolores leaving court with husband Don Burton after their former nanny Joy Fahy lost her case against them, April 2004
So she weaned Dakota, flew to Los Angeles and, from the moment she stepped on to the film set, "I enjoyed myself so much. It was like being called back".
Having fled the spotlight for so long it was a big step for Dolores to re-enter the fray with her debut solo album and accompanying world tour last year.
The difference this time, she says, is that she is doing it on her own terms.
"In a band, you are always rushing, working to schedules, feeling you are part of a package.
"Now I don't have to worry about anyone else - I can just be myself."
We meet in a plush Park Lane hotel in London. A decade ago, as part of the Cranberries, Dolores would probably have arrived with an entourage and conducted interviews in a lavish suite. Today, she is alone and happy to sit in a quiet corner of the lounge.
Up close you can see the subtle signs of her star status - lusciously layered hair, gleaming dentistry and a French manicure.
But at 36, she still has about her that fragile yet feisty air of the goth teenager who used to paint her nails black and pale her face with baby powder.
Her only jewellery is her wedding band.
"I don't like bling,"she says.
"Don (her husband) bought me lots of jewellery, but it was just something else to stress about.
"When you have four bracelets, you constantly ask yourself, 'Which one shall I wear?' The easiest thing is not to wear any."
Her jeans and pumps are similarly understated.
"I was a fashion victim for a while, and I do love tailored clothes.
"But I don't feel I have to prove myself by wearing expensive stuff. What is important is what's in your heart."
To understand the ambitious, uber-cool yet at times crushingly insecure Dolores, you have to appreciate her earliest years, growing up in rural Ballybricken. Hers was a classic Irish Catholic childhood - convent education, Mass every Sunday and saint's day.
There was hardship - her father had suffered brain damage in a car crash two years before Dolores was born and never worked, so her mother toiled to pay the bills, childminding and doing housework by day, followed by shifts at a local factory at night.
As the youngest of seven - she has five brothers and one sister - Dolores had an attention-seeking, rebellious streak, but mostly she did what she was told.
She played the church organ, sang Gregorian chants and wasn't allowed to go to discos or wear make-up.
"My mother had this notion of me becoming a nun," she recalls.
"But I was thinking rock star, and when I was 18, something inside me flipped. One day I ran away, and it broke my mother's heart."
Within weeks of leaving, she had hitched up with the Cranberries and was touring Ireland in an old bread van, before signing a jaw-dropping six-album deal, and travelling to America.
She shudders to think of how hard the wrench must have been for her mother.
"We made our peace a couple of weeks after I left, but I never moved back.
"You take your parents so much for granted, then later you're sorry for having been such a pain.
"I thought I knew it all.
"It was only when I got to my 30s that I realised I knew a lot less than I thought I did in my 20s."
They were heady days, and Dolores loved the songwriting and performing, but she admits to having been naive about what it is to be a celebrity.
"Fame is weird," she says. "You're just trying to be normal, but then you find yourself in the darkness."
The Cranberries toured with Suede and Duran Duran, before headlining around the world.
"We were on a massive high, but at the time you don't feel it because you're waking up at seven and a make-up artist is prodding you because you've got a magazine shoot at nine, and you're doing tour, album, tour, album, and it's like that every day."
She's not whingeing, just telling it as it was. And she blames no one but herself.
"I was a workaholic, like my mother. I could never say no."
She wasn't good with men - a factor she puts down to her relationship with her father.
"We have the best relationship now, but he had been emotionally absent when I was growing up.
"The car accident made him that way, but at the time I couldn't see that."
There were a couple of messy liaisons before, at 21, she met Don. He was Duran Duran's tour manager, a Canadian ten years her senior, and he showered her with love.
"To this day, if we're out to dinner, he'll take my coat, give me my chair, check out the menu for what I like. He's a real caregiver, so protective of me."
Dolores and Don married in 1994 in Tipperary - she famously wore a see-through dress - and spent their honeymoon camping in Galway.
"We only had five days before my next gig and I couldn't face staying in a hotel where everyone would recognise us, so we woke up the day after our wedding in a tent, hungover and starving," she grins.
"We had a gas stove, but no food, so I walked down to the village shop for a tin of beans and there I was, on all the front pages. I put my head down, grabbed the beans, and ran."
A year later she started having anxiety attacks - her limbs would seize up when she was about to go on stage or when she was with strangers.
She couldn't eat or sleep, and her weight plummeted to six stone.
Interviewers described her as moody and erratic, and speculated that she had anorexia.
In fact, she was just emotionally spent.
"When you have that sort of fame, you are bigger than your own self.
"I thought I was indestructible.
"It was only later, when I saw pictures of myself, that I realised how terrible I looked."
Beechy Colclough, psychotherapist to the stars (he has also counselled Elton John, Michael Jackson and Robbie Williams), proved to be her salvation.
"He made me feel that it wasn't me who was nuts, just the world around me.
"He said, 'It's your life. Stop being famous and get away.' So I did."
Taylor, now ten, was born a year after her breakdown.
"Having him gave me a whole new outlook on life."
He was followed by Molly, now seven, and Dakota, two.
The Cranberries made a couple more albums but other band members were starting families too, "and one of them had a seriously ill child and life took over".
Dolores and Don moved to Canada, to a log cabin home in Ontario.
"The Canadians are very grounded. I could take Taylor to school and sit in his class with a bunch of six-year-olds and just be Mum.
"I wasn't singing, wasn't performing, I had no website. And sometimes Don and I would go online and see all this banter on the unofficial sites, people asking 'Where is she?' But it was important to disconnect myself."
The one thing she never stopped, however, was writing songs.
Her album Are You Listening? is a collection of 12 tracks, plucked from more than 30, that reflect the highs and lows of her past decade.
It is dedicated to Don's stepmother Denise, who died of cancer in 2004. She had been like a second mother to Dolores.
There are also ballads she has dedicated to her children, to Don and to her parents, and a blisteringly angry track entitled 'Loser'.
She's not identifying her 'loser', so we can only speculate whether the lyrics 'A two-watt light bulb is brighter than you/I'm sick and tired of people like you' are directed at the former nanny who tried, and failed, to sue her and Don over negligence and false imprisonment claims in 2004.
Dolores seems a woman who has achieved a hard-won equilibrium.
She and Don still have their log cabin, but their main home is now in Howth, Dublin, where Ronan Keating and other entertainment and media types are near neighbours. "This is practical for the children. We're part of the community.
"Life has changed so much for me, but I'm a normal mother, and one of the things I'm most proud of is that I'm giving my children their own normality."
She recalls an ex-boyfriend saying to her once that if she had children, she would stop being an artist.
"But you know, living my life through their lives is my inspiration. Your career goes up and down, but your family is for ever.
"Becoming famous skewed my perspective for a while, but, underneath it all, I always knew that."
Posted in Stuff, Interviews with Dolores |
- Dolores O'Riordan's Song "Ordinary Day" has got an active support of admirers borrows and is 1 place on radio Radio 31 (Kazakhstan)! Continue to vote for a song!
- On Radio Maximum Dolores' song "When We Were Young" has fallen with 8 to 16 place. So let's vote actively! Let's lift again a song on high places.
- Solo album Dolores O'Riordan " Are You Listening? " Has been nominated in a nomination " Best Irish Female " (details Here). And yesterday results of voting have been announced. Unfortunately, Dolores has not won (Cathy Davey is the winner). But all the same it is pleasant, that Dolores was among applicants for a prestigious rank is already a recognition of her musical merits in solo creativity. The theme is discussed at a forum Here.
Posted in Dolores News |
Dolores 4 new wallpapers in our Gallery.
Special thanx to Farhad for these great works!
If you have your own wallpapers with Dolores and want to share, send them to us! We will upload it here with great pleasure!
Posted in Site Update |
3 new wallpapers are added to Gallery.
Special thanx to Farhad for these great works!
If you have your own wallpapers with Dolores and want to share, send them to us! We will upload it here with great pleasure!
Posted in Site Update |
• Gallery is updated. We have added 1100 Dolores' photos in section "Dolores' Photos".
There will be added more photos soon!
Posted in Site Update |
There are the first 3 photos from European Border Breakers Awards where Dolores has got award (click the left button for iriginal size versions):

You can see Dolores' old daughter Molly (7 y.o.) on the third photo! She celebrated her birthday on January, 27! She looks like her mother in childhood!
Dolores looks really happy! It's her second music awards after she began solo-career. She has got ? Capri Music Awards 2004 for the best"Ave Maria" perfromance.
And Dolores has changed her hairstyle, as you can see! She made her hairs shoter, but they are still long behind. Maybe she will return to shot hairstyle in futute!
Posted in Dolores News |
Here is the new letter from Dolores to fans:
23RD JANUARY - A LETTER FROM DOLORES
Hey you Guys,
Hope you had a wonderful Holiday Season, Mine was lovely with the family, Santa was really good !!!
Sorry it's been awhile since I wrote but I was chillin out. I began new tracks last week in Canada for the new album, sounding great and it was a blast.
Thanks so much for all of your support over the years,This weekend I'm off to Cannes to perform at the EBBA awards and after that Disneyland for my Daughter Molly's 7th Birthday.
Keep in touch
Lot's of Love
Dolores XX
Posted in Dolores News |
• It's time for amazing things! Our dear Lisa sings 3 songs in Dolores style, she imitates Dolores voice SO GREAT! You know, it sounds just like Dolores sang in 1990-1991 demo-records! It's a really wonderfull performance! Listen to all 3 tracks and you will see that it's beautiful and really sounds like Dolores' singing!
- Lisa - Umbrella (time - 4:31)
- Lisa - Gomenasai (time - 3:43)
- Lisa - Umka (time - 3:13)
Posted in Site Update |
Download new Cool Interview with Dolores! Dolores rides snowmobile, plays the piano, and performs the part of new song!!!
And there is the text of new song:
"Looked out the window, it rained today (…………..) so far away."
Screenshots:
Posted in Site Update |
Unfortunally Audio/Video sections aren't working during last month, cos of technical reason. We are reuploading the stuff to new hosting. We need time to finish this work, be patient! The links has already changed to new address. So you can download reuploaded files right now (fro example Koko 2007 video concert). And there will be more and more fixed links every day! We will write when all links will be fixed.
Posted in Site Update |
Dolores made new experiment during her Acoustic Tour. She wore hat & scarf on the concert. It's hard to remember Dolores with hat during all these years! It's really something new.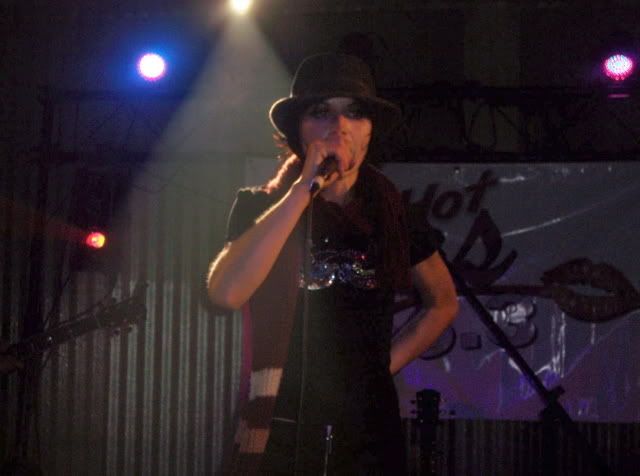 Posted in Dolores News |
Steve DeMarchi, guitarist from Dolores' Band, wrote new Dolores' concert dates on his Blog in November and December. Congratulations!
29 November - BOSTON - WXRV - Charity-Fundraiser Show
30 November - DES MOINES IA. - KPTL - Charity Xmas Show
02 December - NASHVILLE TN. - WRLT - Sunday Night Concert Series
03 December - CHARLOTTESVILLE VIRGINIA - WCNR - Free Show
07 December - McALLEN TEXAS - KHKZ - Xmas Show
08 December - EL PASO TEXAS - KSII - Xmas Show
12 December - BOULDER CO. - KBCO - Radio Show
14 December - PHOENIX AZ. - KMXP - Xmas Show
15 December - PALM SPRINGS CA. - KPSI - Xmas Show
16 December - BAKERSFIELD CA. - KLLY - Lounge
Source: ???? ???????
Posted in Dolores News |
Dolores is nominated in Best Irish Female Awards (by Meteor Music).
We ask all of you to support Dolores & vote for her Here
The full list of women for this nomination is:
* Andrea Corr
* Cathy Davey
* Maria Doyle Kennedy
* Roisin Murphy
* Sinead O'Connor
* Dolores O'Riordan
Posted in Dolores News |
Dolores performed at concert DES MOINES IA yesterday. There were 8 songs: Linger, Ode to my Family,Ordinary Day,Zombie,When You're Gone,Free to Decide, Loser ? Dreams.
Cranfan72 (one of cran-fans) writes that Dolores has new tattoo - 6 letters on the left arm.
Also Cranfan72 talked with Dolores after the concert. Dolores was all, but Cranfan72 says that performance was great anyway.
There is no any photo of new tattoo yet. But we will upload it as soon as possible!
Posted in Dolores News |
Source: CONFRONT Magazine, July 25, 2007
Article written by: SteveK
Published by: 25.07.2007
When CONFRONT's Editor told me that we were being offered an interview with Dolores O'Riordan, I jumped at the opportunity. Here was my chance to finally interview someone whose music I had been listening to for years, having been a fan of the Cranberries since the very early 1990s when I bought 'Everybody Else is Doing it, so Why Can't We?'; CONFRONT's interview coincided with the release of 'Are You Listening?', O'Riordan's first solo effort.
My excitement turned to worry, however, because while doing research on O'Riordan, I discovered that the singer/songwriter from Limerick, Ireland is a fairly private person; what little news there is of her is fairly ordinary, and as straightforward as she and the Cranberries had been about their politics through their music, there wasn't much controversy to build an interview around.
Fortunately what I found out while talking with the unassuming artist who was calling from Cologne, Germany, was just how easily she inspired conversation. So much so in fact, that I found myself speaking with her as if we were old friends catching up, talking about things like children, creativity, our mutual love-hate relationship with road-trip vacations and just the simple things that make life so extraordinary.
Despite having jotted down questions about the release of 'Are You Listening?' I found myself engrossed in conversations about her family life, getting a glimpse into how this Irish mother juggles celebrity and family. Although originally intended as a Beat Bazaar interview, Dolores's candid simplicity with regard to herself and motherhood made it impossible to not want to share this side of her in greater detail.
"Well, in part I just really wanted to spend some seriously quality time with my family," she explained when I mentioned that it had been 4 years between this new solo project and the last release of the Cranberries. "I'd finished with the Cranberries; we'd kind of done the full journey: five albums, the Greatest Hits…we were out of the contract and it was time to get off of the treadmill and get away from it all, go chill out and enjoy the kiddies-and have another one!"
I had noticed that one item of criticism that kept coming up in reviews I had read was that 'Are you Listening?' sounds so much like the Cranberries musically. Was it her intention to continue in the same musical style or was that just coincidental? After all, O'Riordan's voice is expressly distinctive.
"Well, I didn't really want to cut my legs off and call myself "Shorty" or anything like that. It's still me, so it's the same chick, the same writer. I'm a little bit more experimental though."
While listening to the new album, what I found was that with the Cranberries there was more of a social or political message, whereas with 'Are You Listening?' it has become something much more personal; it's apparent a change in her life's perspective has been made; that the time off and the personal life she was able to foster really coloured the album.
"I suppose that's really because I spent four years at home. I was very grounded, you know. I was first a mother, then a wife, then a daughter. Kind of making up for all the years that I toured and left my family, you know? I just wanted to stay at home and be normal and see if I'd missed anything in all those years I'd been traveling. Kind of trying to go back and catch up and hanging out with old friends again. In that time the old songwriting became a hobby again. Which is odd because when that happens you do it as a therapeutic thing, you know? You do it because you feel like it; you don't do it because you feel like 'Oh, we have to meet a deadline we've got to get an album out' you know? Also, when you're on tour you don't have much life experience because you're going from the hotel to the stage to the bus, to the hotel to the stage to the bus. And that's it; you don't really experience that much, you know? You're on this kind of treadmilly thing, you know? So it's kind of hard to get inspiration. And I suppose you take your inspiration from social stuff because when you're traveling and you're watching the news a bit more. But when I was at home it was more like, you know, very organic and it was a bit of a hobby to write about everyday things, ordinary things."
Through research I also found out that Dolores spends a great deal of her time on Canadian soil.
"Well, Vancouver is lovely…I like the Vancouver mountains. (…) I like Montreal, Quebec; I've had a lot of good times there, I've had a lot of fun there socializing. (…) Done a bit of damage to the old credit card there , you know, spending a lot. (…) Good for a bit of shopping and good little restaurants and good little pubs. I think it was either Montreal or Quebec; one of them we were in for the anniversary and a wedding anniversary; we had great laughs."
She later recounted her experience taking a road trip through Ontario, a family vacation much like any of us have taken with our parents at one time or another. Her story brought back many memories of childhood voyages and cranky yet fun excursions. Here are a few excerpts:
"Yeah, the other half decided 'Let's take an RV down to Niagara' and the baby wouldn't sit down the whole way, you know? So all the way down to Niagara it was like 'Wah!' it was so funny; and trying to get the kids to sit down in an RV is really difficult, you know? It's quite hilarious; my poor husband was fit to bust by the time we got to Niagara Falls; he was like 'Oh, my God I'm going to go crazy!' because the kids were giving out and stuff, you know [like] 'I've got to go to the bathroom!' and he was like 'Oh, God, okay, can you balance there?' It was so much fun I don't think we'll be doing the RV again.
"It's not just the driving it's the stress of driving; and then you get stuck in rush hour in Toronto (…) and there's naught you can do about it. And then, you know, it's like 'I'm Hungry!' and 'Well, okay, there's some bread and butter', but 'Yeah but I want something else'.
"We drove from Ontario about five, six hours down to Niagara and we stayed there; they have great little lands there; stuff for the kids to spend time playing on their own machines; it's a good fun place, Niagara is. Then we did Marineland as well. That's great fun as well…good rides there. You always feel like puking afterwards but it feels good at the time, you know…those dangerous rides. It's kind of one of those funny things, too; when the kids get to that age where they want to do the roller coasters. And you're thinking 'Hey, man! I'm so beyond that I'm an old lady, here!' but they're going 'Come on! Come on!' and then you just kind of go and you just feel like 'Oh my God, I'm so sick!' How do kids like those things spinning around and going upside down and shaking around and all that?"
In an effort to get back to the topic of music , I asked one of the questions I had always wanted an answer to and now finally had the opportunity to ask: What is it with Ireland? Is there something in the water that keeps turning out so many great musicians on such an epic scale? U2, Van Morrison and Sinead O'Connor, to name a few, all hail from the "Green Isle" and though varied in their musical styles, all seem to share that same passion. Not surprisingly, Dolores's answer rotated quickly back to the topic of children.
"I would say it's kind of very much a part of the culture, music; we have the Celtic music and the Celtic people are very musical-you know, the Scottish people are very musical as well-and so you have that kind of background and in primary school all the kids have to play the tin whistle when they were five or six. They kind of really push it on some of us in school, you know? Get the little small ones playing the tin whistle or the pipe or playing something, you know? It's nice to get kids playing music on their own because then when they're hitting their teens and they're going through their tough times they can go off to their rooms and play with their instrument, you know?"
Even a question like "What was the first and last concert you attended" seemed to bring back memories of her kiddies. "The first concert I ever went to was the Waterboys in Croom, in County Limerick. And the most recent one I've gone to was probably my bass player's with Tin Lizzy in Dublin (…) it was rocking. But I had to leave early because I was very pregnant and it was vibrating. I don't think they use in-ears so the stage was really rocking, right? And the baby was going nuts because I was about eight months pregnant. It was like vibrating the baby."
I think most notably the point at which it had become clear that Dolores's life had changed from rock star to mother over the course of those four years spent at home with her children came when I asked what her musical guilty pleasures were.
"Uh, Sesame Street, maybe?" She said which made me laugh. This wasn't exactly what I had expected this icon of mine to answer. "But I'm not embarrassed, though; I'm kind of proud of it. I think Sesame Street is brilliant music. What's that guy's name? is it [Jim] Hanson? His stuff is great and he has the bear in the big blue house and stuff. And I just think that he's so melodic and my kids listen to it and at home you just find yourself singing along. But I'm not really embarrassed about it. I don't really get embarrassed because I think it's important to be yourself and be proud of your choices and who you are."
I assume that as an artist and a working parent, the decision to take time off from your life, your passion and your dreams could seem daunting. But it is obvious that with her children comes a new life Dolores cherishes and feels it imperative to make time for. All too often we hear stories of parents in the entertainment industry who feel that juggling career and family is a daunting task, children regularly being pushed into the arms of necessary third party helpers and surrogate parents so that the celebrity can take advantage of the moment and keep the momentum of their careers going. Yet this talented artist seems to take it all in stride.
The past four years might have taken the spotlight off of Dolores O'Riordan, but the May 2007 release of her first solo effort 'Are You Listening?' will certainly help to edge it back in her direction. I believe Allmusic.com said it best when they printed: "That's why [the album] is a success as a solo debut: it doesn't resurrect O'Riordan's earliest work as much as reconnect with it, and she hasn't sounded this purposeful, or made a record this satisfying, since the days of "Linger."
We have added 78 great photos from concert in Russia. You can Download 276 photos from Dolores' concert in Moscow in our Gallery right now! Hi-res photos, good view, great Dolores…;) We will add more photos soon!
Authors of therse photos agreed to support our Fan-Club, and it's exclusive stuff specially for our site! We allow to everyone place some of these photos on your sites, but DON'T delete site-mark & don't change file-names (cos there are names of authors in file-names).
Posted in Site Update |
- Download 198 great photos in Our Gallery. Thank to all fans who sent photos to us. We will add new soon
- Site updates are ugraded and automated. Now it's really easy to add it & there will be often updates.
- We have problems with our Audio/Video stuff. You can't download it right now, but we are reuploading the stuff right now and we will write when we will fix it.
Posted in Site Update |
Dolores cancelled her world tour. After her mealing poisoning in Russia & 2 cancelled concerts she gave 3 gigs:
15TH NOVEMBER - BASEL, SWITZERLAND (AS SPECIAL GUEST OF RUFUS WAINWRIGHT) - FESTSAAL MESSE BASEL
16TH NOVEMBER - MANNHEIM, GERMANY - ALTE FEUERWACHE
17TH NOVEMBER - GENT, BELGIUM - HANDELSBEURS
But jne fan from Switzerland wrote that Dolores has got injection and then she performed. She was ill during last 3 concert. And polish press writes that Dolores has pleurisy. It's not a dangerous illness, but Dolores need to treat herself and have more rest.
And there is the official letter from Dolores:
19TH NOVEMBER - APPOLOGY FROM DOLORES - REMAINDER OF EUROPEAN TOUR (Lille, Paris, Luxemburg, Warsaw and Prague) CANCELLED DUE TO ILLNESS
Hello to all!
Just a note to say sorry for canceling the tour, I need to rest a while as I have been traveling and touring for the better part of a year. The Doc says rest and I'll get better. I will come back in the new year.
Love to you all and Happy Holidays!
Sorry once again.
-Dolores XX
We wish Dolores get well again! And we hope that fans will understand if Dolores does something, that means that she really need to do. Let's support Dolores!
Source: Official site
Posted in Dolores News |
• Dolores O'Riordan has visited Russia with concert! Russian fans are so active! There made a lot of photos (more then 200), many video-audio-records in high quality. We will share by it a little later. Russian forum is crazy of it. She was there. We made 2 portraits of her and gave it to her. And also we ordered a special medallion with her face and also gave it to her. And we gave her 45 daffodils with words "… and the daffodils look lovely today". We hope she will return someday to our country and I will be there too.
• We learned a food poisoning occured and two canceled most expected Italian gigs. We have sent a letter to Dolores. There we express our deepest regret on the occasion of this incident. • Download 149 photos from russian concert in our Gallery (other photos will be uploaded there later)
• Video & audio from concert will be on the site a bit later. Keep visiting our site.
Posted in Dolores News |
Source: www.laopiniondemurcia.es
The former singer of The Cranberries shows her darkest and most personal side in her last album, "Are you listening", which she is presenting at a concert in Murcia.
Dolores O'riordan's (the former singer of the famous band The Cranberries) press conference was held yesterday at the "Narciso Yepes" room in the Murcia's audotorium, in order to present her concert, that is actually taking place today.
The artist, who arrived free-and-easy at the press room, started a solo career last May that has made her tour around a half of the world, and now she stops in Murcia to present her new album, "Are You Listening?". An album that is - as she confesses- very autobiographical and personal. The artist chose that title, because it seemed "very humble" for her and she was "very surprised, because nobody had never used it before", she said.
The singer assured that, at the concert she is giving tonight, she will sing not only new songs, but also old hits, "I like singing the old songs, because they make people remember something they have lived."
The artist, who describes these moments as the most beautiful of her career, says that "when I look at the audience in a concert and I see they are singing my songs, I feel they are indetified with what I'm telling along them."
This fact means for her that her lyrics become a dance, since "it's beautiful that my lyrics are still alive". Dolores states with a smile on her face that she's going to try to "vary things in order to make more newnesses."
The whole world remembers her with her band partners around, but she is now moving through the world of music with an own voice; although she is not with The Cranberries anymore, she doesn't forget them, because there aren't such big differences between "that Dolores" and the current one. The artist thinks, as she declared yesterday, that "the biggest difference is actually a gravity issue. The body grows old and that makes you change."
This thirty-six-year-old singer, has had three children during the time she has been "standing" on her musical career, and this - she says- "has changed my body a lot". But O'riordan is convinced that "when the body falls the soul rises and you keep on growing", that's why she continues on her musical career with new challenges to accomplish, even though she has to deal with them alone.
The singer complained about the few time that she has had during the tour to know more deeply the places where she has to sing, that's why she wishes she could enjoy the city of Murcia much more.
Posted in Stuff, Interviews with Dolores |
10.09.2007 Dates of Dolores' gigs in november:
04.11 - MURCIA, SPAIN - AUDITORIO
05.11- MADRID, SPAIN - LA RIVIERA
06.11- SAN SEBASTIAN, SPAIN - KURSAL
08.11- PALMA DE MALLORCA, SPAIN - AUDITORI
10.11- MOSCOW, RUSSIA - B1 MAXIMUM CLUB
12.11- MODENA, ITALY - VOX CLUB
13.11 - FIRENZE, ITALY - SASCHALL
15.11- BASEL, SWITZERLAND (AS SPECIAL GUEST OF RUFUS WAINWRIGHT) - FESTSAAL MESSE BASEL
16.11- MANNHEIM, GERMANY - ALTE FEUERWACHE
17.11- GENT, BELGIUM - HANDELSBEURS
20.11- LILLE, FRANCE - L'AERO
21.11- PARIS, FRANCE - OLYMPIA
22.11- LUXEMBURG, LUXEMBURG - VENUE TO BE CONFIRMED
Source: http://www.doloresoriordan.ie
Posted in Dolores News |
Source: radio 89,7 FM "Obiteljski radio"
Published: october, 2007

Part 1
Dolores O'riordan is tonite's special guest. Last friday she call us by telephone and asked for what area code is +385, when we told her, her reaction was:
Dolores: Croatia, of course i was trying to figure out from where i recieved a phone call.
After introducing myself, i used my best weapon, my birth date, 27th of January, and she answered:
Dolores: Ohh the same as my husband and my daughter, perfect!!
She asked how's the weather in Croatia, we replied back asking the same.
Dolores: Absolutely amazing, it's really sunny today, pretty hot, i went out in a walk in one t-shirt which is kinda bizzare, it's usually cold..But this october we have such a lovely weather in Ireland.
October, or better say Halloween night in 2002, many of Croatian people remember so well..31st of october, five years ago she was here with the Cranberries, so we asked if she remembers that too..
Dolores: I do remember, actaully. I remember people were so emotional during the concert I remember even seeing people crying.
As we heard Dolores wrote a song called Croatia, is that true??
Dolores: Oh yes, it was probably i was so touched seeing this people crying, i realise Croatian people suffer emotionally a lot and i was so sad about it and that's why I wrote this song.
We asked her about some details of song and does she intend to release it someday?
Dolores: Yeah, the chorus goes "Calling Croatia, I comfort you now" (my note: i think she says calling croatia instead of call me Croatia, as the overvoice said but im not sure about it), i felt like im giving them consolation, music can be an escape if u can reach the people and fill them with music, in some way you are connected, i felt good touching people hearts. It's all about that, just go there. In every country it's different, you think you have problems, but when you visit other countries you see that there are even more challenges there.(i dont get this sentence but she said smth like this). My eyes are always wide open and when I travel somewhere else I try to learn something new. For the first time I was in South America, it was unbelievable, people are amazing, strong, witty (smth like have lotsa humor) but also so emotional.
In South America, audience really like the song "When we were young" from the Are You Listening album which u can listen to now. Stay with us.



Part 2
Beside the music on tonite's show we can present an exclusive interview with Dolores O'Riordan. For four years she doesn't play with the Cranberries, but this year she revitalised her career, she recorded new album, get together a new band and started touring.
On drums we have Graham Hopkins (ex player of Therapy), Marco Mendoza from Thin Lizzy and Steve de Marchi who was playing support guitar with the Cranberries, on her band Dolores says:
Dolores: I know Marco for about 8-9 years, my husband for about 15 years, so he's an old friend and brilliant bass player, Denny DeMarchi is Steve's brother, their father was concert pianist, he was amazing artist, but he passed away when Steve and Denny were young. It's so nice to see that after that they continue to play, Steve on guitar and Denny on keyboards.
How did u all gather in one place?
Dolores: DeMarchi's are old friends of the Burton's, for almost 25 years, my husband decided to hire Marco and it happend in Los Angeles, and Graham well it seems we just bump into him. (i think i can hear her laughing in the back, lol)
Were you all excited about releasing a debut solo album Are you listening?
Dolores: Yeah I was really excited, it was brilliant, you know, it was nice especially after having 4 years off. I had to start from the beggining, start to build my career again, but it feels nice as i think we did something which turn out great. It's really hard nowdays for the artist cause the music industry has changed.
Most of the time you write songs about things that happen in your life, things that happen to you directly, but do you ever get inspired about things that happen to other people, that u meet along the way, the kind of stories that don't happen to you directly but have an affect on you?
Dolores: Oh yeah, definatelly, you know, Ecstasy was not written about me, but about people who had problems with depression, drug addiction. I met so many people through my life, so i write about that side of human spirit, when people suffer, how they survive and live with it and how to be strong. Life is not always easy.
This is Ecstasy, so stay tuned to hear more from Dolores O'Riordan..(but they play Apple of my eyes instead of Ecstasy, xaxaxaxa, as what i can hear it..)



Part 3
Dolores O'Riordan is special guest of the tonite's Total Music Info show. She finished first part of the tour, which included Europe, USA and South America. Only part if the dates of the second European tour was announced which starts in November. Are you looking forward to the new shows and are u thinking of coming back to Croatia?
Dolores: I totally look forward to go back, you know, it should be great. It's been a long time, u said 2002, that's 5 years, well i'll be near so I could drop by.
On Official site www.doloresoriordan.ie, most known singer is writing her tour diary (lol where did he see that, cause she didn't write much..xexe) What is your experienece while travelling and meeting fans?
Dolores: Fans are brilliant, you know, i probably feel that as i write my own songs and the fans are there to give the songs the complete meanings. I live my songs in one way, but it can have different meaning to any other person. The audience (fans) make song alive and all other things why songs keep on existing.
Dolores was one of the favourite singer of the late Pope John Paul II, how she remembers him?
Dolores: Oh I loved him, I love John Paul II, it was lovely. He was the Man who loved people and kids. Something special was arround him, he had aura. It was amazing.
That's the main reason why Dolores was chosen to sing "Ave Maria" for Passion of Christ, movie by Mel Gibson. That was not the only connection with the acting and movie, she also had cameo role in Adam Sandler's movie "Click" we asked if she sees herself in a movie and what kind of role she would wanna act?
Dolores: I don't think i could act actually because, i think what happens when you are a person who's very well known for being who you are so it's hard to be somebody else. Im not good in transfering in somebody else, some role because im totally into myself, even when i was a little child. We had shows in school, i knew how to sing but never was good for acting as i think i dont know how to act.
I sit true that she loves soap operas?? (my note: where did he heard that, lol)
Dolores: Ah, no. I just wacth "Carnation street" but i havent wacth that now this year as i was touring.
Posted in Interviews with Dolores |